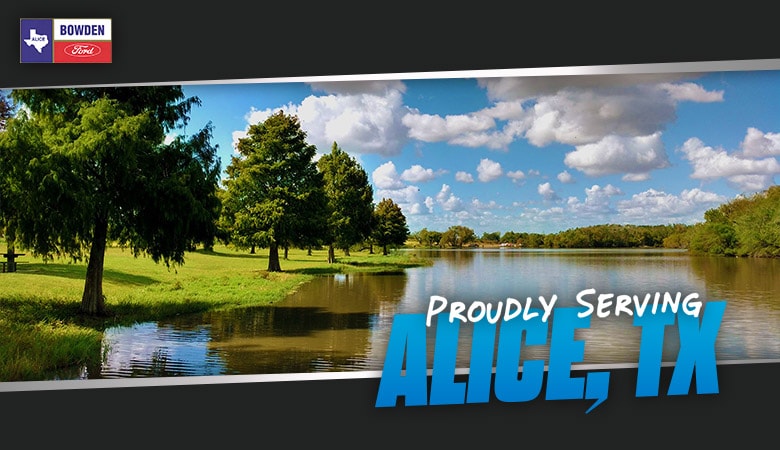 At Bowden Ford, we're proud to be a part of the Alice, Texas community. This historic town is more than just the seat of Jim Wells County - it's a thriving community with a rich heritage and plenty of local attractions.
History of Alice, TX
Alice can trace its roots back to the 1750s. At that time, the land that would one day become Alice was a Spanish land grant under Jose Escandon. Escandon established many local missions to resist colonization from French forces.
During the late 19th century, this site became the intersection of railway lines from San Diego, Corpus Christi, Aransas Pass, and San Antonio. At this time, it was the world's busiest beef-shipping location. A town and supporting industries grew around this critical junction.
This bustling hub became known as the town of Bandana. Eventually, it was renamed Kleberg. In 1888, the town was renamed again - this time, after Alice King, the daughter of famed ranchers Richard and Henrietta King, who founded the iconic King Ranch.
Alice's first mayor was P.A. Presnall, elected in 1904. The city continued to boom, and in 1911, Alice became the seat of Jim Wells County. The city's upward trend continued into the 1930s, when the petroleum industry helped the area thrive and grow in the midst of the Great Depression. While Alice is a much quieter community nowadays, the area still boasts many historic buildings and local landmarks.
Nearby attractions
There's no shortage of exciting attractions near Alice, Texas. Immerse yourself in Texas history with a visit to King Ranch. This emblem of the Lone Star State boasts daily tours, a museum, a saddle shop, and a cattle ranching operation. Alice is also a short trip away from the Texas State Aquarium. At this world-class family-friendly attraction, you can see tropical fish, rays, sharks, and dolphins. For outdoor fun, you can venture to Lake Corpus Christi State Park, which offers on-site lodging, boat ramps, full hookup campsites, and miles of hiking trails.
Proud to be a part of the Alice community
Bowden Ford is proud to serve Alice and its surrounding communities. From trusty and reliable American classics like the Ford F-150 to upcoming models like the off-road-ready Ford Bronco, we offer a wide variety of vehicles to suit all kinds of drivers. To learn more about driving home in a new Ford, contact us at Bowden Ford.